An error is something which will generate the difference between computed and correct value. For example, while using Cydia Impactor, you may face runtime error, http-win.cpp158, cydia impactor error 173 or any of such errors. These errors cause a significant delay for a human to get work finished. It is a natural behavior to become frustrated when such errors are not getting fixed.
In this article, we have provided almost all kinds of errors you may face while using Cydia Impactor. You will get the cause of particular cydia impactor error along with its solution. Just stick with the post, and get your error solved. 🙂
Cydia Impactor Errors and Solution
If you fail to solve encountered cydia impactor error while sideloading, you can try cydia impactor alternatives.
1. Cydia Impactor runtime error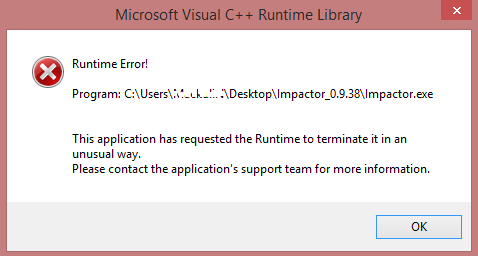 Error:  
runtime error!
This application has requested the Runtime to terminate it in an unusual way.
Solution:
Install Visual C++ Redistribution latest version.
2. installation.cpp:42 error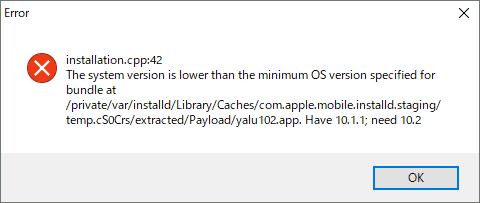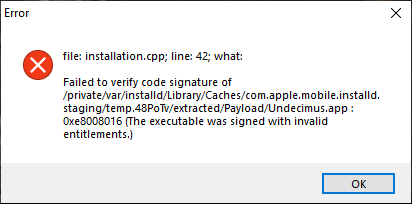 Error:
cydia impactor installation.cpp:42
The system version is lower than the minimum OS version specified for_directory
File : installation.cpp;line:42;what:
Failed to verify code signature of
/private/var/installd/Library/Caches/com.apple.mobile.installd.staging/temp.Igza8P/extracred/Payload/spotify++.app:0xe8008016(The executable was signed with invalid entitlements.)
Solution 1:
It may be caused by dragging IPA zip file directly to Cydia Impactor. Try to extract at the desktop and then drag it to the software.
Try your luck with VPN for making an attempt with a different region.
Utilize another tool for signing IPA file and sideload that signed IPA using Impactor. One of the community members used iOS App Signer to resign yalu.ipa and installed with the latest Impactor, it worked!
Solution 2:
The majority of community members are facing the same issue while using Cydia Impactor. Trying out available different solutions are not leading users to walk away without cydia impactor 42 error. But it can be 100% resolved with the following method where impactor won't be our handy tool.
Go to jailbreaks.fun from your Safari browser.
Type unc0ver -new beta in the search bar.
Upon finding the same, click on Get and let it install the app.
Disable Reload System Daemons and enable Reinstall Cydia
Now perform jailbreak. (Perform multiple attempts if necessary)
You are welcome. 😉
3. installation.cpp:51 error
Error:
cydia impactor installation.cpp.51
ipa does not support
Solution:
Upgrading iOS version will solve the error.
4. lockdown.cpp:57 error

Error:
file: lockdown.cpp; line: 57; what:LOCKDOWN_E_INVALID_CONF
Solution:
Kill the Cydia Impactor, turn off the WiFi on your iPhone and run the impactor again.
Tap on "Trust" on your iPhone while you connect your device to the computer.
Simple download and install the latest iTunes and sign in using your Apple credentials.
5. provision.cpp:62 error

Error:
cydia impactor provision.cpp:62
Solution:
Repeat installation of IPA continuously
Disable "Search for iPhone" by navigating Setting >> iCloud
6. provision.cpp:68 error
Error:
cydia impactor provision.cpp:68
Solution:
Agree with the terms by visiting developer section of apple: developer.apple.com
7. provision.cpp:71 error

Error:
cydia impactor provision.cpp:71
Solution:
It is probably occurring because you are having a similar app on your iOS device.
8. provision.cpp:80 error

Error:
cydia impactor provision.cpp:80
You already have a current iOS development certificate pr pending certificate request.
Solution:

There may be a problem with the certificate causing such action. Navigate to Xcode >> Revoke Certificates. Enter your Apple ID and password and revoke the certificate.
9. provision.cpp:81 error
Error:
file:provision.cpp;line:81;what:ios/addAppld=9313
The "Network Extensions" feature is only available to users enrolled in Apple Developer Program. Please visit https://developer.apple.com/programs/ to enroll.
Solution:
Utilize revoke certificate along with cydia impactor as demonstrated for 80 error.
Create a new apple id and use it while cydia impactor asks. This will solve the actual issue.
10. provision.cpp:150 error
Error:
provision.cpp:150 or provisoin.cpp:168
Your Apple ID or password was entered incorrectly
Solution:
It may be because of invalid login credentials. However, if it does not disappear, go to appleid.apple.com and generate an app-specific password. You can follow our video guide.
11. provision.cpp:158 error
Error:
provision.cpp:158
peer certificate cannot be authenticated with given CA certificates
Solution:
It seems you haven't followed our simple guide of installing IPA file on iOS. After drag and drop task, you need to allow unknown certificate. Follow Setting >> General >>Device Management >> Your Installed IPA >> Trust. You can always follow our video guide.
12. provision.cpp:159 error
Error:
Solution:
High probability of facing this error may be the older version of Cydia Impactor. Download and install latest Cydia Impactor.
13. provision.cpp:160 error
Error:
provision.cpp:160
http-win.cpp:160
Solution:
It encounters because of improper internet connection. For removing this cydia impactor error, ensure you are connected to the internet with the firewall. If you're using VPN, disable it.
14. provision.cpp:168 error
Error:
provision.cpp:168
You already have a current iOS Development certificate or a pending certificate request
Solution:
Utilize App-Specific Password: This is the same method that we used to eliminate cydia impactor エラー 173. However, go through our video tutorial.
Revoke Certificates: Navigate to Cydia Impactor > Xcode > Revoke Certificates. Enter your Apple ID and password and hit enter. You will get "revoked 1 certificate" message on the screen. Now, try reinstalling your IPA file.
Create a New Apple ID: There might be the possibility of getting this error because of your Apple ID. Create a brand new Apple ID and try sideloading your IPA package.
Install Package Manually: If you are still unable to install the desired app, go to Device > Install Package and pick up your downloaded IPA file. This should remove the cydia impactor 168 error.
Computer Diversification:  At last, give another computer a chance as some existing installed software may be acting as a barrier for this impactor error.
15. provision.cpp:173 error

Error:
provision.cpp; line: 173; what:
Please sign in with an app-specific password
Solution:
As the error depicts, you need enter an app-specific password while sideloading IPA files instead of your Apple ID password. Go to https://appleid.apple.com/, log in using your Apple ID credentials and generate an app-specific password. Use it when you drag IPA on cydia impactor.
Alternatively, you can just create a new Apple ID and give it a shot. This should eliminate cydia impactor 173 error.
If it still appears, try disabling two-factor authentification and make an attempt using your existing Apple ID password.
16. http-win, cpp; line 182

Error:
file: http-win.cpp; line 182; what: Problem with ssl ca cert (path? access rights?)
file:http-win, cpp; line 182; what;SSL connect error
gnutls_handshake() failed: Error in the pull function.
Solution:
Menu >> Impactor >> Insecure SSL. (It will change your insecure ssl setting and error will be resolved.)
Check if you have a double certificate. Turn it off and give it a go. It is worth a shot for cydia impactor 182 error.
17. provision.cpp:698 error
Error:
Solution:
It appears when Cydia Impactor doesn't detect iOS device properly. Remove USB cable and reboot iPhone once. Reinstall iTunes and then follow the entire procedure.
18. impactor.cpp:637 error
Error:
impactor.cpp:637
error:desktop.cpp:314
Solution:
 The simplest solution is to install iTunes that you probably forgot to install earlier.
19. zip.cpp:311 error
Error:
.zip.cpp:311
.zip.cpp:420
Solution:
Your downloaded IPA file may be corrupted which is causing this issue. Download IPA file again from any trusted source.
20. ipa.cpp:456
Error:
Solution:
It is because of the lack of .app/info.plist. Find the file and replace it.
21. zip.cpp:557 error
Error:
zip.cpp:557
Not a zip archive
Solution:
The primary reason behind appearing this error is an improper archive of the original IPA file or download may be interrupted. Download it again or try out another IPA provider and sideload again.
22. file: zip.cpp; line: 597
Error:
file: zip.cpp; line: 597
premature ends error
Solution:
23. provision.cpp; line: 81 (Xcode 7.3)
Error:
file: provision.cpp; line: 81; what:
ios/listAllDevelopmentCerts = 3018
Please update to Xcode 7.3 or later to continue developing with your Apple ID
Solution:
This is causing a lot of trouble due to core changes from Apple. Well, the backend has to be changed to get rid of this and there has not been any permanent fix so far. But in the meantime, you can fulfill your requirements using available spoofers or provision.
Install IPAs using Windows-based 3Utools
Use Apple Premium Developer Accounts
This issue is expected to be solved within this December itself.
24. Cydia impactor error 37
Error:
file: ./http.hpp; line: 37; what:
_assert(code == 200)
Solution:
We've been tracking this error from its inception and have tried a lot of tweaks. Well, this is neither a software or OS error but rather Apple servers are throwing the same. The servers are now fixed and the error is gone now. However, if you're still facing the same, try the following solution:
After connecting your device, don't drag and drop the IPA on the software window.
Navigate to Device -> Install Package and select your file.
Cydia Impactor Error 173 Solution